6kv 10kv high voltage frequency converter
Product Description
High voltage frequency converter
The frequency converter takes high-speed DSP as the control core, adopts space voltage vector control technology and power unit series multi-level technology.With high reliability,easy operation and high performance as the design goals,it can meet the needs of users for various types of load speed regulation,energy saving and production process improvement .
System structure:
The structure of high voltage inverter is shown in Figure , includes phase shifting transformer, power cells and controller. 6kV series inverter contains 5 cells each phase, 15 cells in total. 10kV series inverter contains 8 cells each phase, 24 cells in total.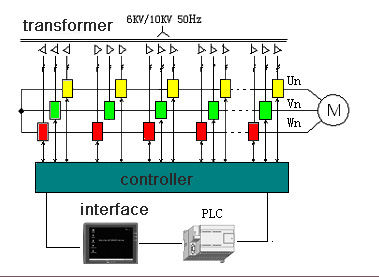 The structures of power cell are common, which are shown in Figure , it is the AC - DC - AC single phase inverter circuit, rectifier diodes are for the three phase full-wave, IGBT inverter bridge controlled by sinusoidal PWM technology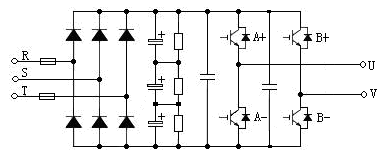 Features:
*Comprehensive waveform display and recording
The main control system can monitor the input current, voltage, output voltage and current in real time, display the waveform, and analyze the harmonic of each phase voltage and current, which is helpful for users to master various electrical parameters of the equipment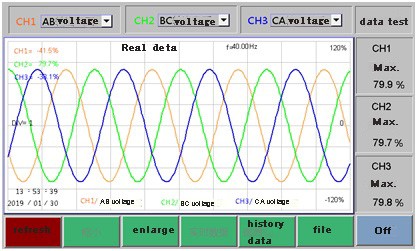 *Double loop control power supply, stable and reliable.
*High power density: small cell size, modular design; The whole machine is compact in structure and occupies little space.
*DC braking technology: when the motor is rotating (below 10Hz), DC braking current is applied to force the motor from rotating state to stopping state.
*Current limiting technology: when the inverter is running, if the current exceeds the limit value, limit the increase of current by reducing the frequency until the current is less than the limit value, and the inverter returns to the normal operating frequency.
*Overvoltage stall technology: during frequency reduction of the frequency converter, the motor generates electricity. When the bus rises, the frequency converter automatically lengthens the frequency reduction time to prevent the shutdown problem caused by bus overvoltage.
*Multiple control modes: local control, remote control box control and DCS control can be selected; Support MODBUS, PROFIBUS and other communication protocols; Frequency setting can be set on site, communication, etc; Support frequency preset, acceleration and deceleration functions.
*Acceleration and deceleration self-adaptive function: the frequency converter adjusts the acceleration time or limits the operating frequency of the motor according to the current load current of the motor, so as to limit the current and realize the function of no current during acceleration. During frequency reduction of frequency converter, the frequency reduction time is adjusted according to the bus voltage, so as to achieve the function of no overvoltage during frequency reduction.
*Black box function and intelligent analysis:
The equipment has the function of automatically recording the operation status and displaying, and can view the output current, output voltage, set frequency, operation frequency, input current and input voltage values of 200 points (100ms) before and after the protection, which is convenient for daily maintenance and rapid abnormal diagnosis.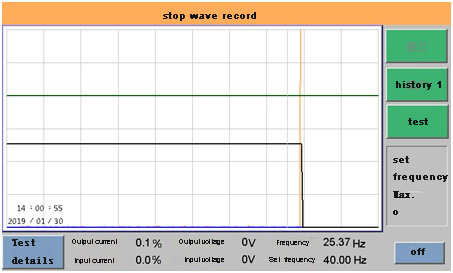 Application fields
u Power generation fields
Water given pump, Condensate pump, Circulating pump, Booster fan, Compressor, Induced draft fan, Vacuum fan
u Petroleum fields
Air compressor, Induced draft fan, Injection pump, Submersible pump, Water circulating pump, Brine pump, Oil pump
u Coal and Mine fields
Hoister, Axial fans, Cleaning pumps, Mixing pumps, Dust fan, Mud pump, Water pump, Feed pumps, drain pump
u Metallurgy fields
Dust fan, Blast furnace blowers, Compressor fan, Oxygen Compressor, Feed pumps, SO2 fans, Cleaning pumps, Gas compressors
u Cement, and building materials fields
Raw mill fan, Cement mill fans exhaust fan, Heat fan mill, Dust fan, Circulating fan, Pressure fan
u Municipal areas
Pressure pump, Hot water circulation pumps, Sewage pumps, The water supply pump, Fan
u Chemical industry
Pressure pump, Compressor, Pump, Soft water pump, Blower, Fan
u Other fields
Air pump test stand, Wind tunnel test device
Technic parameter:
Type

Two quadrant high-voltage VFD

Four quadrant high-voltage VFD

Applied motor power(kw)

200kw-12000kw(4-pole motor is the standard,6-12pole motor is selected according to current)

200kw-2000kw(4-pole motor is the standard,6-12pole motor is selected according to current)

Rated output

Rated power(kw)

Rated power motor rated voltage 200kw-12000kw

Rated power motor rated voltage 200kw-2000kw

Rated current(A)

Rated current of motor rated voltage

Rated current of motor rated voltage

Overload capacity

105% continuous,130% allow 1 minute,150% allow 3 seconds.180% immediate protection

150% continuous,180% allow 1 minute.250% immediate protection

Output voltage(KV)

Three-phase 0-6kv,(0-10kv)

Waveform

Mutiplexed SPWM sine wave

Input voltage

Phase/frequency/voltage

Three phase 50Hz 0-6kv,(0-10kv)

Allowed volatility

Voltage:±10% Frequency:±5% -15%~35% derating for continuous operation.

Basic performance

Start frequency

0-10Hz can be set

Accuracy

Analog setting:less than 0.3% of Max. frequency setting value(25± 10℃)

Digital setting:less than 0.1% of Max. frequency setting value(-10± 50℃)

Resolution

Analog setting:1/2000 of the Max. frequency setting value

Digital setting:0.01hz(below 99.99hz) 0.1Hz(above 100hz)

Efficiency

≥98% at rated output

Working

Power factor

≥0.95

Operation

Local control(touch screen,cabinet door swtich)operation,remote extemal control operation,upper computer operation(optional)

Given frequency

Touch screen digital given,muti-speed given,external control analog signal(DC4~20MA)given

Working status output

Ralay status output,inverter fault,alarm.working/stop and other status indication

Touch secreen

Input/output voltage,Input/output current,set value,fault status of each unit.working status,transformer status,bus voltage of each unit,etc.

Protection function

Motor overcurrent, whole machine overvoltage, whole machine undervoltage, unit overcurrent, unit overvoltage, unit overheating, unit input phase loss, optical fiber communication failure, etc.

Cooling method and enclosure protection grade

Forced air cooling/IP31

Control

Acceleration and deceleration time

0.01~6000.0S, the acceleration and deceleration time can be set separately

Voltage/Frequency Characteristics

Set by the set V/F curve

PID

Manually set PID parameters

Auxiliary function

V/F curve, low frequency compensation, rated current, current protection limit setting

High voltage isolation

Electromagnetic coupling, multi-channel fiber optic transmission

Control power input

AC 220V 2KVA

Environment

Applicable places

Indoor, no corrosive or conductive gas, dust, direct sunlight, below 1000 meters above sea level (can be customized for high altitude areas)

Ambient temperature/humidity

-10℃~+40℃/20~90%RH without condensation

Vibration

5m/s2 (below 0.6g)

Storage temperature

-20 to +65°C (suitable for short-term storage such as transportation)
Jinan Xinyuhua Energy Technology Co.,Ltd
Jinan Xinyuhua Energy Technology Co., Ltd. found in 2005,firmly grasps the direction of "low-carbon economy and green development", takes "building a first-class new energy enterprise in China and even in the world" as its strategic goal, carries forward the enterprise spirit of "harmony, innovation and pursuit of excellence", strives to contribute clean energy, improve the power structure and fulfill social responsibility. A multi field, large-scale and powerful new energy leading enterprise constantly shows its unique charm and elegant demeanor. It will continue to serve the country with industry, repay the society with value, base on the market with reputation, and gallop into the future with strength, and advance hand in hand with all walks of life to create brilliance together!
The company is committed to the application of new energy industry in industrial, civil, military and other fields. Its products include solar system, wind turbine system, static frequency converter, marine shore power supply system, DC power supply, voltage and frequency stabilizer, military power supply ,test transformer device etc. Our business marketing network covers Europe, North America and Asia Pacific, covering more than 20 countries, including Singapore, Indonesia, Philippines, Bangladesh, Germany, Italy, Belgium, the United States, Spain, Australia and other major markets. For each new member of Xinyuhua, new energy is not only a business opportunity in the sunshine, but also a way of life to create a green future. We uphold the concept of "sunshine quality, serving the world", and share with you the joy of the growth of green energy in the world under the sunshine!
Company Name: Jinan Xinyuhua Energy Technology Co.,Ltd
Representative: Sky Huang
Product/Service: Wind Inverter , Off Grid Inverter , AC Power Source , Wind Turbine , Frequency Converter , Bi Directional Inverter
Capital (Million US $): 10 000 000RMB
Year Established: 2005
Total Annual Sales Volume (Million US $): US$10 Million - US$50 Million
Export Percentage: 71% - 80%
Total Annual Purchase Volume (Million US $): US$10 Million - US$50 Million
No. of Production Lines: 3
No. of R&D Staff: 31 -40 People
No. of QC Staff: 5 -10 People
OEM Services Provided: yes
Factory Size (Sq.meters): 1,000-3,000 square meters
Factory Location: No.220 Huayuan Road Licheng district
Contact Person: Mr. Sky Huang
Tel: +86-531-58535196